Onyx bundle:

3D plant creators:




Renderings:
Free plants:

And finally:




Great program - only been using it for a few minutes and it seems very intuitive and straightforward. I have spent a lot of my time looking at trees and the representations are excellent! [ John F., trees expert, UK ]
OnyxGARDEN Suite is a cost saving collection of essential tools for a serious CG artist. The package contains six standalone plant creators/generators/editors with corresponding libraries of more than 460 ready to use trees, shrubs, palms, bamboos, flowers, grasses, and grass covers! These stand-alone modelers are compatible with virtualy any rendering software on the market due to the fact that they export out plants in 6 most popular file formats: 3ds, c4d, lwo, obj, dxf, fac. Furthermore, the new Suite includes our Onyx2Max import plugin as a better alternative vehicle to import Onyx plants into Max.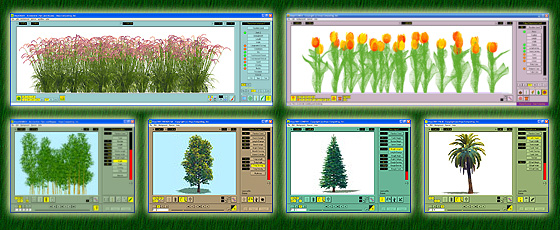 OnyxGARDEN Suite contains all these software packages:


Win System Requirements
PC with Intel, AMD or compatible microprocessor

MS Windows 10, 8, 7, XP operating system


Mac System Requirements
IntelMac with Parallels, Fusion VM, or Boot Camp with MS Windows 10, 8, 7, XP operating system


OnyxGARDEN Suite Software Package
Download a zip file containing OnyxGARDEN Suite programs, plant libraries, manuals, and auxiliary files.